Protect your environment from spills with the revolutionary GO Green products!
For all questions please contact our team.
You can buy our absorbents HERE.
SIA "eSYS PRO" piedāvā iegādāties naftas un ķīmisko produktu absorbentu materiālus. Piedāvājam granulu veida, paklāju, ruļļu absorbentus, lokalizācijas bonas.Green Ocean Green Ocean produktu katalogs
Please accept marketing-cookies to watch this video.
GO Green absorbents mean advanced technology in oil and other substances spill removal. ESYS is the largest producer of absorbents and booms in Europe.
We produce a wide range of innovative products both for business and private sector. The main mission of our products is to create ecologically safe environment at work and at home.
At the heart of all products is our unique patented filler – a revolutionary material made of natural fibers with nano reinforcement, which perfectly helps to clean up pollution and various spills.
Thanks to our unique technology, we have been able to create an absorbent that will absorb spills almost 3 times faster than conventional absorbents. One gram of this unique material absorbs 50 grams of spilled substance, which is impressive in modern industrial conditions.
Our absorbents come in different types and sizes, so you will be able to find an absorbent for every situation.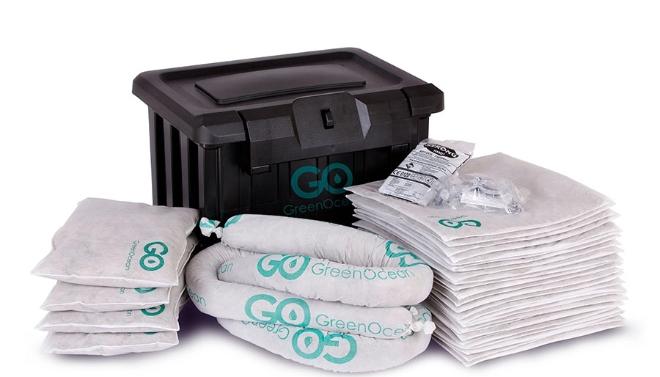 WE PRODUCE
Absorbent mats
Absorbent pillows
Special protective materials that absorb and prevent further release of chemicals
Emergency spill kits
Absorbent cloths
Booms
Special absorbing rugs for a car trunk
Absorbent "socks"
Granulated absorbents
OUR ABSORBENTS ARE USED BY
Oil production companies
Energy companies
Various manufacturing companies
Treatment service providers
Water supply and utility companies
ADVANTAGES OF GO GREEN ABSORBENTS
Absorb more than other absorbents – 50% more than polypropylene absorbents
Work faster – 99% of the spilled substance is absorbed within the first 15 minutes
Lower disposal costs – Absorbents can be reused up to 3 times